Creating a Business Central Incoming document with attachment via BC Webservice.
Hey guys…
Today I am trying to create an incoming document in business central with the attached file of an extension like .pdf or .docx file, via publishing one codeunit webservice and consumed by other software or powerautomate.
Below are some steps to be followed
1. Create BC codeunit webservice with custom method in it and publish it
2. Consume this webservice via power automate and generate JSON object text
3. supply JSON object as text in the codeunit method.
4. Process the JSON object and start creating incoming document.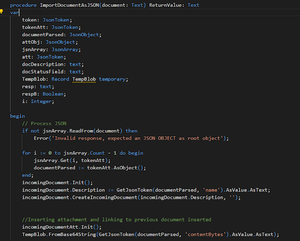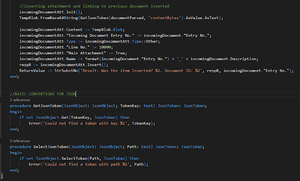 document:text will have a JSON text in the body as a parameter I am here also pasting my JSON objects with the proper format and the result what I am getting after using POST method as per below


Result:

Note: Please make sure header part should have parameter as mentioned below, if you are trying wizdler to use POST method, no need to use this method as wizdler(WSDL) automatically format.
Download Wizdler here for chrome extension.

After processing above I am getting my incoming document created as per below screenshot.